At the initiative of the global sustainable agriculture specialist Solidaridad Network, the apex edible oil industry associations from five major palm oil importing countries from Asia – India, Pakistan, Sri Lanka, Bangladesh and Nepal – have come together for the first time to form an Asian Palm Oil Alliance (APOA). The Alliance commits to work across the world to ensure that palm oil is recognised as a high-quality, economical, and healthy vegetable oil and to change the negative image of palm oil.
Speaking on occasion, Solvent Extractors' Association of India (SEAI) President Shri Atul Chaturvedi said, "The need for Asian palm oil consuming countries was felt for a long time. The formation of APOA empowers several Asian countries for whom palm oil is a source of affordable food and nutrition. The APOA is expected to safeguard the economic and business interests of the palm-oil consuming countries and create a level playing field for all fats and oils used in food, feed and oleochemicals in Asia. It will further work towards increasing the consumption of sustainable palm oil in member countries."
Solidaridad for Asia Managing Director Dr. Shatadru Chattopadhayay said: "We are happy to be the neutral convenor of all significant Asian solvent extractors associations. In the coming years, we believe APOA will emerge as one of the most vital forums to address common problems, interests and aspirations of the global palm oil industry. In the decades to come, the rising wealth of Asia will further boost the regional demand for palm oil. We expect APOA would be soon joined by the palm oil producing countries from Indonesia, Malaysia and Thailand."
Palm Oil Industry Association of Sri Lanka President Dr. Rohan Fernando said, "The role of APOA is crucial in the facilitation of collective and coordinated efforts of both Asian palm oil- producer countries and palm oil consuming countries for sustainable palm oil. It will strengthen Asia's role in palm oil sustainability efforts. We are also pleased to have the opportunity to support this initiative and are grateful to both the Solvent Extractors Association India and Solidaridad for inviting the Palm Oil Industry Association of Sri Lanka to be a founder member of the APOA and look forward to achieve many milestones together; for the greater good of sustainable palm oil contributing towards economic sustainability and prosperity in Sri Lanka and the region."
Oil palm is considered to be one of the most competitive vegetable oil crops in terms of productivity, yet this 'wonder crop' is often mired in brutal controversies that can hurt the communities associated with its production and commerce. The ban on palm oil production by the Sri Lankan government has resulted in exchange losses and opportunity cost amounting to millions of dollars to the economy. Sri Lanka annually imports 180,000 to 220,000 MT of vegetable oil. This can be met with 50,000 ha of oil palm compared to 271,000 ha of coconut. Oil palm yields 4 to 5 times oil per ha than coconut.
Oil palm plantations have served Sri Lanka for over 54 years, starting around 1968 and generates the highest profits per ha compared to other commercial crops – which establishes oil palm as the most profitable crop for smallholders. In terms of wages for plantation workers the daily wages per month for workers: Oil palm worker at Rs. 30,000-Rs. 50,000 which is significantly higher than that of tea estate workers and rubber tappers – making it a viable solution for poverty alleviation as well.
For more information please contact:
Sri Lanka
yajithdesilva@gmail.com
Yajith De Silva
Chief Operating Officer
Palm Oil Industry Association
+94 77 236 4198
Asia
suresh.motwani@solidaridadnetwork.org
Dr Suresh Motwani
General Manager – Solidaridad Asia
Palm Program Focal Point
+91 94250 10530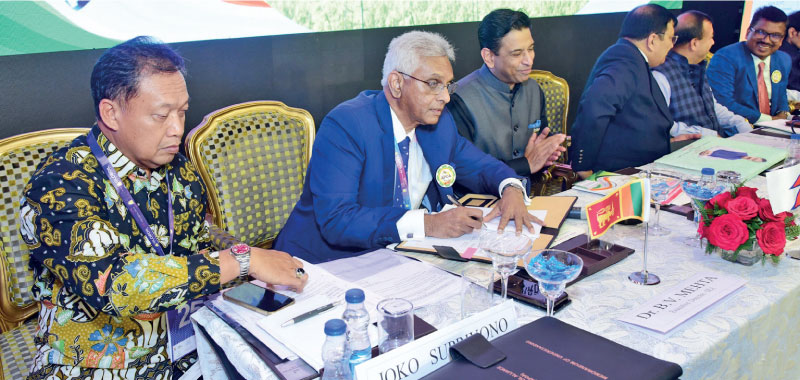 - SL Palm Oil Industry Association President Dr. Rohan Fernando signs the MoU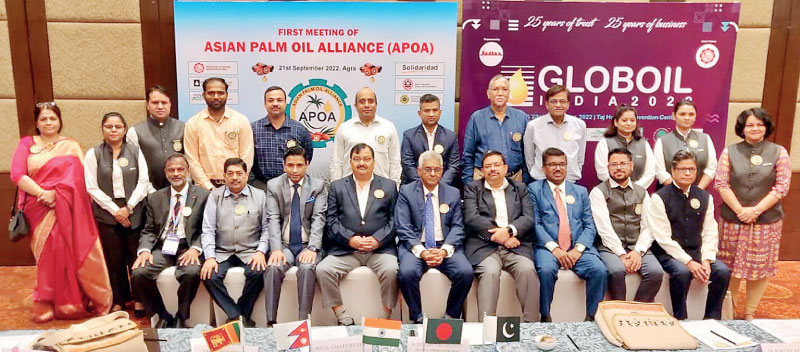 -Asia Palm Oil Alliance working group